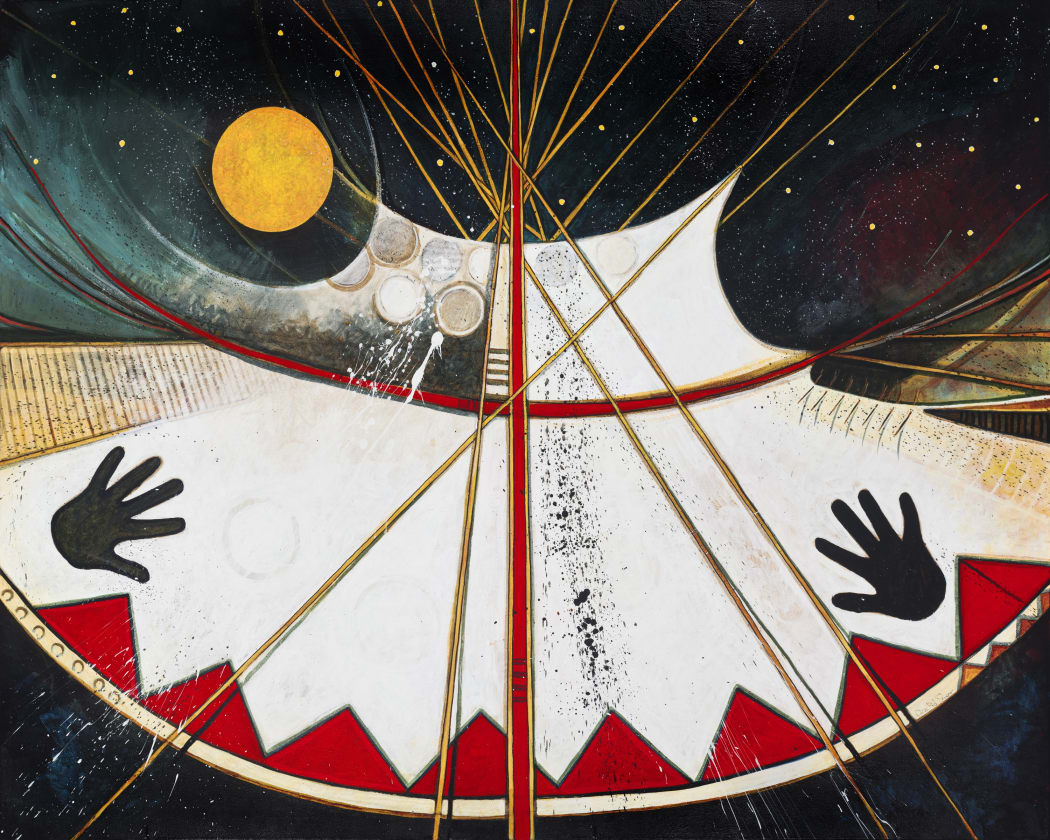 Renowned Montana painter, Kevin Red Star, will be in Big Sky, Montana, September 15, from 5 - 7:30 p.m. Please join us for an artist talk at the Wilson Hotel at 5 p.m. An artist reception will follow at Courtney Collins Fine Art Gallery.
Artist Feature: Kevin Red Star
Kevin Red Star has had a career painting for more than 40 years.Over the course of his career, he has gained honor and respect from fellow Native Americans due to his authenticity in his work. Having paintings in galleries and museums all over the states, Red Star is known for his unique imagery, artistic productivity, and the enduring value of his work.
Red Star grew up on a Crow reservation in southern Montana where he was a member of a highly creative family. In the late sixties, Red Star was chosen to be one of the first students selected at the Institute of American Indian Arts in Santa Fe. This school provided a learning environment of tribal tradition, world history, and current trends. There, Red Star was encouraged to individually experiment and collaborate.
"Art is what I love," said Red Star, "I love making art."
Following highschool, Red Star attended the San Francisco Art Institute where he was sufficiently educated to embark on his career. In the early days of Red Star's art career, he caught attention in New York and Paris as well as established art centers throughout the United States. Some would say that Red Star was a part of changing the face of modern indian art.
Red Star loved his art career. Through difficulty and triumph, grief and joy, he continued to develop his skill and produce a great body of work that reflected the acute clarity and complexity of his paintings. For Red Star, no matter the size or subject of his painting, each had a specific meaning.
"I don't make art to sell," said Red Star, "I make art to share."
One of the many places where Red Star has "shared" his work is at Courtney Collins Fine Art Gallery in Big Sky, Montana.
"I love having Courtney promote my work," said Red Star. "Courtney always encourages me to innovate, and to do something different. I like that. When I create for Courtney, there's a freedom about my work. It may still be a Kevin Red Star, but it may also have some flair."
Kevin Red Stars continues to evolve and refine his art every day in his studio located near the Crow reservation and the resort town of Red Lodge, MT. He also spends time in Santa Fe, where his career began.
"My career has gone over forty years," said Red Star, "I've created a lot of paintings for people who take them home and enjoy them. But you know what? My paintings are also being collected by my sons and daughters. And that makes me feel so happy. The legend keeps going."
***
Please join us at the Wilson hotel September 15, at 5 p.m. to hear from Kevin Red Star. An artist reception will follow at Courtney Collins Fine Art Gallery in Big Sky, MT.